NOW AVAILABLE FOR TOTAL KNEE REPLACEMENT
Dr. Blackwood is the first surgeon to have fellowship level training specifically in Makoplasty robotic knee and hip replacement. He has performed hundreds of makoplasty procedures and is an educational training surgeon for Mako Surgical.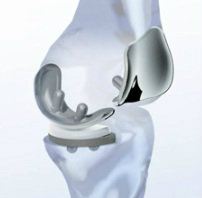 MAKOplasty® Partial Knee Resurfacing is an innovative treatment option for adults living with early to midstage osteoarthritis (OA) in either the medial (inner), patellofemoral (top), or both compartments of the knee. It is powered by the RIO® Robotic Arm Interactive Orthopedic System, which allows for consistently reproducible precision in performing partial knee resurfacing. Patients who desire a restoration of lifestyle, minimized surgery, reduced pain and rapid recovery may benefit from MAKOplasty®.
During the procedure, the diseased portion of the knee is resurfaced, sparing the patient's healthy bone and surrounding tissue. An implant is then secured in the joint to allow the knee to move smoothly again. MAKOplasty® Partial Knee Resurfacing can:
Facilitate optimal implant positioning to result in a more natural feeling knee following surgery
Result in a more rapid recovery and shorter hospital stay than traditional knee replacement surgery
Be performed on an outpatient basis
Promote a rapid relief from pain and return to daily activities
---
An actual Makoplasty procedure
Testimonials:

Hello Dr. Blackwood,

I just want to take a moment to thank you for the wonderful out-come of my partial knee replacement which you performed last January 3. I'm doing great and am scheduled June 27, for the other knee. The pastor of our church even made an announcement from the pulpet one Sunday that I was a walking advertisement for the procedure- advised congregation to consider checking it out if their knees were in trouble ! I'm so grateful. Hope you are enjoying your new location. Again, thank you.

Sincerely,
Diane F

Hello Dr. Blackwood

I have been carrying your business card around since I saw you last in St. Helena. I hope you and your family are settled and happy in Colorado. I want to thank you again for taking such good care of me, my knees are doing very well and I am enjoying life again! Best to you in your new endeavour!

Kind regards, Brigitte G
Solvang, CA

Pre and post op examples